Small Meter (up to 2") Test Systems
The Small Meter Test System developed by MARS Company employs the latest in design and process control technology, setting the worldwide standard for the small meter testing and management industry. This versatile system can be configured to meet the testing needs of virtually any small meter management organization.
MARS Test Bench Systems are designed to meet / exceed American Water Works Association (AWWA) recommendations, National Institute for Standards and Technology (NIST) Handbook 44 Specifications, ISO Specifications and other standards and requirements.
Understanding how your meters perform in the field will allow you to reduce unaccounted for water in your system.
Designed to operate using Volumetric or Gravimetric (optional) technology and to meet/exceed AWWA, ISO and NIST specifications.
Automation is available with optional Gravimetric and MARS M3 Meter Management Software integrations.
Standard and Optional Features
Available on every Small Meter Test Bench System configuration.
* Denotes Optional Items, contact MARS for details
Small Meter Test Bench System Model Selection
Up to 1" Meters
Up to 2" Meters
1.5"-2" Meters
Up to 1" Meters
Tests 1/2″, 5/8″, 3/4″, and 1″ Meters
Series 100 (up to 1 meter at a time*)
Series 300 (up to 3 meters at a time*)
Series 500 (up to 5 meters at a time*)
Series 1000 (up to 10 meters at a time*)
Series 1200 (up to 12 meters at a time*)
Series 2400 (up to 24 meters at a time*)
*Depending on size of meter, estimate listed using typical 5/8″ meter lay length.
Up to 2" Meters
1.5"-2" Meters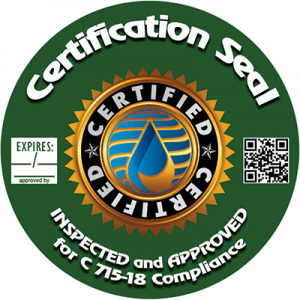 Is your Water Meter Test System ANSI/AWWA C715-18 Compliant?
MARS Company offers the first and only Test Bench Equipment Upgrade Program, enabling customers to upgrade their existing MARS test bench equipment to comply with the ANSI / AWWA C715-18 industry standard.
Is your Meter Shop Certified?
With MARS Maintenance Calibration Certification (MCC), you can protect both MARS and select third-party equipment with calibration, technical assistance, software upgrades, preventative maintenance, training, spares management, and on-site maintenance.