The Meter Test Tanks developed by MARS Company employ the latest in design and durability, setting the worldwide standard for the large meter testing and management industry. These versatile stainless steel tanks can be configured to meet the testing needs of virtually any large meter management organization.  
MARS Test Bench Systems are designed to meet / exceed American Water Works Association (AWWA) recommendations, National Institute for Standards and Technology (NIST) Handbook 44 Specifications, ISO Specifications and other standards and requirements.
Benefits of MARS Stainless Steel Test Tanks
Standard and Optional Features
Available on every Meter Test Tank.
* Denotes Optional Items, contact MARS for details
Low Flow Measurement Tanks
One set of 10/100 Gallon Stainless Steel Duplex Tanks STANDARD for all test bench sizes
Tank volumes of 10 Cu.Ft. / 100 US gallons and 1 Cu.Ft. / 10 US gallons
Tank option: one duplex tank 10/100 or one (1) 10 Gallon Tank and one (1) 100 Gallon Tank
Based on standard dimensions, but, custom tanks can be fabricated upon request
Stainless steel construction
Built in accordance with industry safety and seismic standards
High Flow Measurement Tanks
Size of tanks depend upon the test bench parameters and output requirements
Standard sizes:

300 US gallons
500 US gallons
800 US gallons
1000 US gallons
1500 US gallons
2500 US gallons
3500 US gallons
5000 US Gallons

All standard sizes are based on standard dimensions, custom tanks are fabricated upon request
Stainless steel construction
Automated select valves to migrate from low-flow to high-flow (or vice versa)
All tanks are built in accordance with industry safety and seismic standards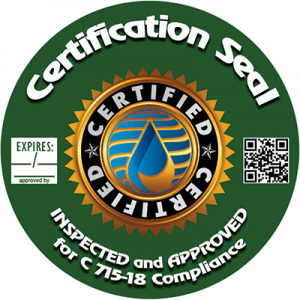 Is your Water Meter Test System ANSI/AWWA C715-18 Compliant?
MARS Company offers the first and only Test Bench Equipment Upgrade Program, enabling customers to upgrade their existing MARS test bench equipment to comply with the ANSI / AWWA C715-18 industry standard.
Is your Meter Shop Certified?
With MARS Maintenance Calibration Certification (MCC), you can protect both MARS and select third-party equipment with calibration, technical assistance, software upgrades, preventative maintenance, training, spares management, and on-site maintenance.