Series 100 Test Bench System

The MARS Company Series 100, Meter Test Bench System makes testing water meters ½" to 2" affordable for meter shops of all sizes.
This compact, one-of-a-kind design integrates the famously-rugged MARS fabricated frame into a reduced footprint, while providing this industry unique capability of testing meters up to two inch in size. All this, without the need for electrical or pneumatic supply for extreme portability and affordability.
The Series 100 uses the effortless self-locking mechanism for operation, three commercial rotameters, and a patented MARS duplex 10/100 gallon stainless steel tank. Operators may accurately test at flow rates from 0.1 to 150 gpm (optional Ultra Low Flow available) with instant visual test results that require no calculations.
With the Series 100 Meter Test Bench System, MARS Company is making meter accuracy and revenue recovery a reality for every utility.
Features & Specifications
Compact Size for Reduced Footprint
Increases Revenue Recovery
Affordable for Meter Shops of All Sizes
Highly Accurate Results
Ability To Grade Existing & New Meters
Repair & Troubleshoot Meters
Perfect for Isolated Meter Testing
Instant Results – No Calculations
Upgradeable for Automation
No Electrical or Pneumatic Supply Required
Test Meters From: 1/2" through 2"
Flow rates from 0.1 to 150 gpm
Volumetric Operation
AWWA M6 Compliant
Includes MARS patented 10/100 gal Duplex Stainless Steel Tank
MARS Company Diversified Products come in many sizes, lengths and configurations...
The MARS Company Series 100, Meter Test Bench System makes testing water meters ½"...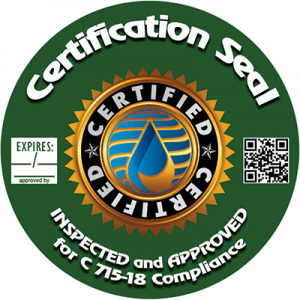 Is your Water Meter Test System ANSI/AWWA C715-18 Compliant?
MARS Company offers the first and only Test Bench Equipment Upgrade Program, enabling customers to upgrade their existing MARS test bench equipment to comply with the ANSI / AWWA C715-18 industry standard.
Is your Meter Shop Certified?
With MARS Maintenance Calibration Certification (MCC), you can protect both MARS and select third-party equipment with calibration, technical assistance, software upgrades, preventative maintenance, training, spares management, and on-site maintenance.