Mobile Meter Test Systems
The Truck, Van or Trailer-Mounted Test System is designed to fit on a utility vehicle, pickup truck, van or on/in a trailer, supplied by the customer (unless specified). The test unit is based on comparison meter technology and is fully linearized and calibrated to avoid inherent test meter accuracy curves, providing clients with the ability to test meters in the field without removing them from service.
MARS Test Bench Systems are designed to meet / exceed American Water Works Association (AWWA) recommendations, National Institute for Standards and Technology (NIST) Handbook 44 Specifications, ISO Specifications and other standards and requirements.
Understanding how your meters perform in the field will allow you to reduce unaccounted for water in your system.
Designed to operate using Volumetric technology and to meet/exceed AWWAand NIST specifications.
Automation is available with MARS M3 Meter Management Software integrations.
Standard and Optional Features
Available on every Mobile Meter Test System configuration.
* Denotes Optional Items, contact MARS for details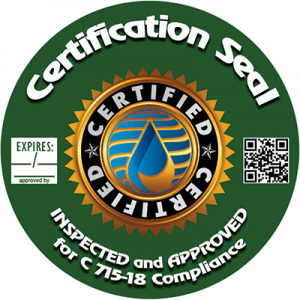 Is your Water Meter Test System ANSI/AWWA C715-18 Compliant?
MARS Company offers the first and only Test Bench Equipment Upgrade Program, enabling customers to upgrade their existing MARS test bench equipment to comply with the ANSI / AWWA C715-18 industry standard.
Is your Meter Shop Certified?
With MARS Maintenance Calibration Certification (MCC), you can protect both MARS and select third-party equipment with calibration, technical assistance, software upgrades, preventative maintenance, training, spares management, and on-site maintenance.